Biography
---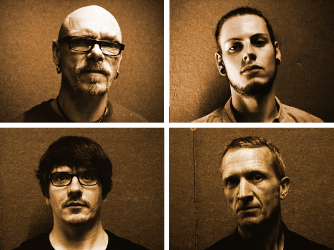 Founded in April 1990 in Hamburg by Jim Sudmann and Markus E. Lipka, EISENVATER pursue the objective of creating a monumental and intensive listening experience via electric guitar-laden rock music. Searching for a suitable record label, all applications are initially turned down on the grounds that, despite the music being indeed 'of high quality', the German vocals are deemed unsuitable to the label's concept... And then, an exception.
In 1992 the album EISENVATER I appears on WE BITE RECORDS, a small, south German hardcore label. Tours within Germany follow and the band attracts an initially small fan base. Purist metal fans respond with agitation, as the band only plays with the stylistic devices of this genre. EISENVATER refuses to view themselves as a regular metal band - too complex are the roots and the musical interests of the protagonists.
After the departure of drummer Jörg Grzedzicki, the album EISENVATER II is produced and released in 1994 with drummer Peter Bellendir. Further tours and sporadic shows in neighbouring countries ensue, the band's following grows noticeably.

Former bassist Marek Gibney leaves, and the band decides to record album No. 3 as a threesome, with Markus E. Lipka taking on the studio bass parts. In 1995, EISENVATER III is released. For tours in Germany, The Netherlands, Denmark, Austria and the U.S., skilled bass player Marco van Basten completes the line-up.
In mid-'96 the band agrees to temporarily halt their collaboration and dedicate their efforts to other musical genres, for example electronic music or Lipka's electric guitar orchestra ROSSBURGER REPORT, in which Sudmann and Bellendir also participate.
After an extended abstinence from the rock genre, in 2002 Sudmann and Lipka resolve to take up their work with EISENVATER again. The following year, they find in Stefan Gretscher the bassist for the already composed new material for EISENVATER IV. Eventually, drummer Johannes Bonnin completes the line-up.
Released in 2009, EISENVATER IV does not reproduce the sound of the first three albums. The sound continues to be first and foremost defined by electric guitars, the developmental history of the band however evidences according idiosyncrasy.
When Johannes Bonnin leaves in 2012, Peter Bellendir returns to the band as they are developing the songs for their upcoming fifth studio album. Just as they are about to play their first festival gig with the new line-up, Peter Bellendir falls ill and subsequently dies in February 2013 after months of pain and suffering. Despite being devastated by this tragedy, the other band members eventually decide to continue EISENVATER. Lutz Möllmann joins the band as interim drummer, then Nic Stockmann eventually becomes Peter's successor.
EISENVATER: loud and irate, but ambivalent and always an entertaining bulwark against the narrow and established, against humorlessness and lovelessness.
Markus E. Lipka - guitars, vocals
Jim Sudmann - guitars, vocals
Stefan Gretscher - bass
Nic Stockmann - drums
Discography
---
EISENVATER I
we bite records
recorded 1992 at soundgarden studios hamburg
produced by chris mevs & markus e. lipka
guitar, vocal - markus e. lipka
guitar, vocal - jim sudmann
bass - marek gibney
drums - jörg grzedzicki


01 fleisch
02 der greuel
03 mutter
04 blind
05 die lüge
06 hund
07 gudrun
08 aggressos apathis
09 ayay!
EISENVATER III
we bite records
recorded 1995 at NHB studios hamburg
produced by EISENVATER
recorded and mixed by michael vitzthum
guitar, bass, vocal - markus e. lipka
guitar, vocal - jim sudmann
drums - peter bellendir



01 arbeit
02 krampf
03 uns're liebe
04 fleischgeld
05 idiot
06 krätzmilbe
07 motorprügel
08 predictum
09 hawaii

EISENVATER IV
unundeux records
recorded 2009 at privateear studios hamburg
mixed by gregor hennig at le chatelet studios hamburg
mastered by chris von rautenkranz at soundgarden studios hamburg
produced by EISENVATER
guitars, vocal - markus e. lipka
guitars, vocal - jim sudmann
bass - stefan gretscher
drums - johannes bonnin

01 botox
02 rücksicht
03 hunger
04 ...und nie wieder geht die sonne auf...
05 vater kommt!
06 biest
07 kaiman
08 brot brennt
09 dingdong-die hexe ist tot
10 holzbein
EISENVATER II
we bite records
recorded 1994 by chris mevs
mixed by chris von rautenkranz at soundgarden studios hamburg
produced by EISENVATER
guitar, vocal - markus e. lipka
guitar, vocal - jim sudmann
bass - marek gibney
drums - peter bellendir

01 salut
02 kaiserschnitt
03 heimat
04 ich spreche von dir
05 zahn
06 schwartzkopf
07 pakka
08 schwächling
09 erektion
split with JAPANISCHE KAMPFHÖRSPIELE
unundeux records
recorded 2009 at privateear studios hamburg
mixed by gregor hennig at le chatelet studios hamburg
mastered by chris von rautenkranz at soundgarden studios hamburg
produced by EISENVATER
guitars, vocal - markus e. lipka
guitars, vocal - jim sudmann
bass - stefan gretscher
drums - johannes bonnin

01 vater kommt! (short version)
Pictures
---
2013








2012

2010








2008








2007








2006








1995








1994








1990-1992








Partners
---

Contact
---
EISENVATER
c/o markus e. lipka
schröderstiftstrasse 34/15
20146 hamburg
germany

info@eisenvater.com
design by Christof Kather & programming by Carsten Janßen & translations by Kenton Türk and Fiona Sangster